Handsome, well-dressed, has a soft voice, elegant style, Da Lat young man with that romantic look Phung Le Lam Hai is actually a very serious, vigorous, practical man with a passion to bring a Vietnamese brand out there to conquer the world.
Wholesaling 25.000 pairs of shoes within 6 months, covering 40 provinces and cities within 9 months, being present in 5 countries: United States, Vietnam, Laos, Cambodia, and Myanmar after 1 year, and preparing to produce and market in Nepal and India. The secret of Phung Le Lam Hai, President and CEO of SAADO is the "Starting business with small capital" model along with a 0 dong marketing strategy.
In a flash
Entering the market with the choice to build a sandal brand with 100% production, design, distribution and marketing done in Vietnam but trademark rights registered in the US, based in the US in order to take advantage of the US's tax favor on domestic products, SAADO's direction is very different from other footwear products in the industry.
With two distribution weapons, online sales and good international relations, SAADO's first market is Cambodia. Selling 300 pairs in the first month to test and observe demand, and create a "win-win" relationship. Fortunately, thanks to careful market research before launch, SAADO has received positive feedback from Cambodian people, who love the light material and youthful design of SAADO.
Following is the penetration of Laos market. After 2 months, the average sales reached 900 to 1,200 pairs/month in these two markets. Then to Myanmar where the first shipment of 3,000 pairs is so well received although the brand was still new.
Explaining the registration under US trademark, Phung Le Lam Hai said: "In fact, an estimated 90% of footwear in the US are manufactured and processed in Vietnam. Being a trademark in the US, with headquarters based in Texas, but SAADO does not only sell in the US, but also competes in other attractive markets in Asia.
Using the protected trademark in the US (Product of USA, Made in Vietnam) as an advantage to springboard into international markets, selling for $29.99, avoiding 30% tax because they protect theri local businesses, that is the competitive advantage. All the production, design, sales and operation are undertaken by the SAADO team in Vietnam. It's American nationality, Vietnamese soul!
SAADO set up a separate project called Chevalier Business Review specializing in business education and training, with the mission to support the project "Starting business with small capital with SAADO", which is my strength in the fashion industry, a rather special advantage.
In the near future SAADO is about to conquer the Muslim markets such as Malaysia, Indonesia, Brunei, the United Arab Emirates, Dubai ... the rich potential countries. This month is a whole month festival, we will wait for it to be over before meeting the partner."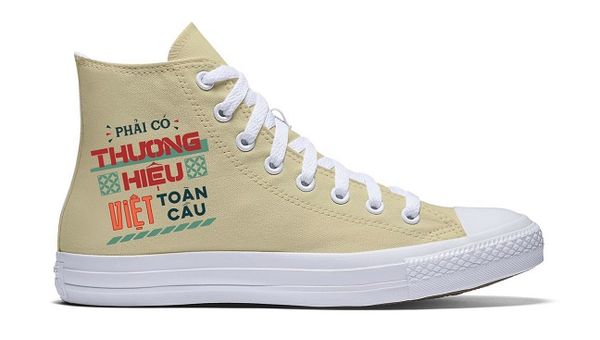 Photos of Saado sandal currently available in 7 countries including the US
In Vietnam market, SAADO has agencies in 40 provinces. With the model of "Starting business with small capital with SAADO", after 60 days, we were able to select 40 start-up groups in different provinces as seeds from which the distribution can be spread quickly to 64 provinces and cities. They are all people with the same thinking and desire to bring the product to the global market.

"Young people love to start a business, this low-cost startup project helps you save a lot of money, at the same time have access to business and advertising support, and also benefitial to Saado. Your development path in the Saado startup group system is only to build your own startup team, focus on sales and marketing. Everything about the product and operation is planned by SAADO 2-3 years ahead.
For those who do not have sales skills, there will be a mentor to help you learn the basics of marketing, sales, product advantages, the differences, cultural visions, etc. which are seldom taught and experienced when you were in school.

From the experience of leading small groups of 3 to 7 people, being guided on leadership and management, information control, internal communication, leading others, you will become representatives of SAADO in the provinces. When there's plenty of money, you will have technology support to upgrade to the store, have your own website. If you want to start a business and just throw away your parents' money, poor them. Coming to SAADO, you can both do business and learn business knowledge ", Mr. Hai said.

Sharing on how to realize the message "1 million pairs of shoes for Vietnamese youth to be confident with international friends", Phung Le Lam Hai said: "We believe we can realize the above brand vision. Because I and the members of SAADO all have both academic knowledge as well as practical experience in multinational environment with small and medium Vietnamese companies. We have struggled long enough in the marketplace, been challenged in different situations and environments; This means we have a full perspective of buiding a company from small to large to confidently step out to challenge ourself when deciding the fate of a business.

I personally (and I believe also the other members of the consulting council, whether technical or direct management) have enough experience to run the business in areas of marketing, branding, sales, finance, HR, supply chain, production, quality management, strategic management, investment ...) accodring to the strategic direction.

We have the heart and desire to contribute to the Vietnamese retail market and the consumers, even to the international market (Asia) via brand experiences. Determined to fulfill our brand promise and brand feelings uniformly and consistently as stated to the customers.

We are close in the set of core values so it is easy to bond, have consent in thought and action; always wish to train and advise one another from multiple angles to form a brand cultural identity unique to SAADO; know how to organize to maintain standards and strategic direction over time. "
Turn the "Vietnamese-designed footwear brand go global" aspiration into reality
Setting the aspiration of "Vietnamese-designed footwear brand go global", from the beginning, SAADO has been a rare retail chain with a clear and consistent declaration of the value of the brand cultural identity for internal and external. This is the principle, purpose and action guideline for all SAADO personnel, creating a good effect with their own prestige and enthusiasm for brand building.

Sharing about his habit of waking up early, a habit that has been formed since he started working hard for SAADO, to turn his aspiration into reality, Hai said: "I often get up early these days, thinking a lot about my SAADO brothers and my promises. I know that I have to work hard enough, practice long enough and think carefully enough, so that problems can be solved well enough.

Not enough quantity, not too much quality but just thinking much will not solve problems. It is important to incubate the idea long enough, be logical enough and have enough time to link ideas and facts. From choosing a partner to start business with to learning customers' insight, from branding to creating a very special product line to get immediate sales.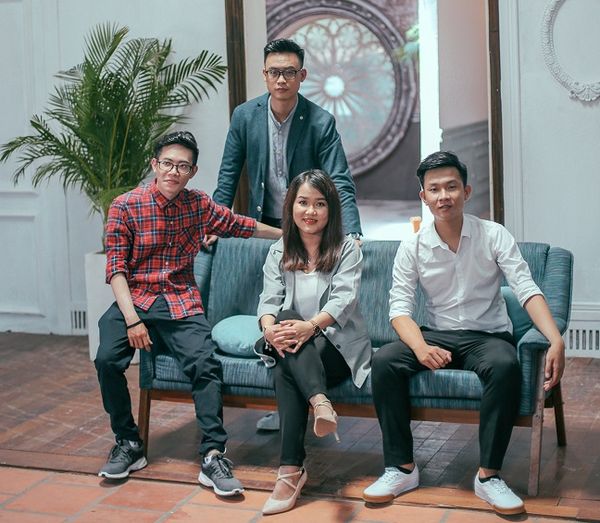 Phung Le Lam Hai (second row) and associates at SAADO
I often tell friends: If creative work doesn't make money, then your product has a problem commercially. It is difficult to maintain the quality of the art, and at the same time understand what makes it good commercially. A competitive advantage can't seen from the outside with the eyes but comes from within the value chain. Luckily, I don't just like fashion, I also have some knowledge. Shoe sales are the same everywhere but what differ are internal resources and strategic analysis.
According to Hai, choosing sandals as a product to start a business and enter the market is due to three factors: Exportability, taking advantage of language strength and international relations, which are my core competencies.
"Vietnam's market is fiercely competitive but in an unhealthy manner, ready to dump price, and other tricks to rise above, because of which all sellers will be harmed. How to reduce risks, gather Vietnamese people in a healthy business environment, support one another in a shared ecosystem, create Vietnamese values ​​... is what I pursued when founding SAADO.
Vietnam is strong in footwear, ranking third in the world export but has not had a strong enough brand to export, to be known internationally. Most of the other brothers in the export industry depend on China, coming to Guangzhou, Fujian to find big factories, because they have the ability to design, large production capacity and Vietnamese traders only care about selling
Based on my strength, customer behavior and needs, I decided to choose sandals as the first product. If you start with sports shoes, you will encounter many other brands. The most important thing I want to do first is to export, it must be "Made in Vietnam".
Based on scientific analysis, market analysis, industry reports, fashion distribution models in the footwear industry and other models, understanding of consumer behavior ... Phung Le Lam Hai and his teammates wished to become the first retail chain of fashion shoes to go global and a the leading footwear chain in Vietnam for young people, known to customers by the phrase "light and global" .
The plan to go global is not simple, from learning hard about markets from the US to European countries, taking advantage of the start-up network among international friends, then deciding to bring goods to developing countries. Hai said: "In Europe, I went to some major markets, ask if my products would sell; They said it wouldn't because their population is old, they care more about function than fashion. The trip to Europe was very useful for me for evaluating the maturity of the product and re-evaluating the strategy for my own business.

I decided not to enter Europe. If I didn't go to Europe, I wouldn't have compared and had new reference, see where we were in the market. Sandals are suitable for countries with large consumer markets like the US, whose consumer behaviors differ from Europe and countries with developing economies such as Laos, Cambodia, Philippines, Indonesia, India ... which have similar culture to Vietnam, who like sandal not only because of its convenience but also beauty.
Telling about the trip to Nepal to meet partners, Hai was very excited: When I showed the product, they immediately asked: "Your product is beautiful, but how can we convince the consumers?". I presented a series of our product differences: "In tropical countries, it is so annoying in the rain with the mud and dirt, the shoes will be damaged. My products are fashionable, lightweight, using quickly-drying material so they don't get soaked, prevent smelly feet, are waterproof, do not get damaged when exposed to heavy rain in tropical monsoon environments. High-end philon structure creates super light shoes, weighting about 115 grams for a 37 size each shoe, depending on the size. Very light, suitable for the beach, summer, especially for students from 12-13 to 17 years old ". So they took it immediately!
With the business philosophy of "Focusing on customer and human, emphasizing service and customer experience", with customers include internal personnel, agents, startups in the SAADO ecosystem, and external consumers who pay the money. SAADO's footwear fashion products meet the trend and tastes of kids, young Generation from 13 – 28 years old: Kid's Shoes, Men's Shoes, Women's Shoes, Sneaker ... Target segments include many ages, from 6 - 13, from 13 - 18, from 18 - 24, from 24 - 32, from 32 - 48.
What makes SAADO different is customer experience and service, reasonable price, on the foundation of moder technology and convenience, not just products. Taking care of target customers with branded quality products in a quick and thoughtful service manner and reasonable price.

Promoting the sale experience based on technology and 2 market trends: The inscreasing East-West standard of living and cultural integration of young people in the wave of modernization and strong technological development (Facebook, Instagram, Zalo & PR articles). The opportunity to reach SAADO through social networks and online marketing is much simpler.
Provide young people with the convenience and comfort when traveling daily (light & easy to grip) to protect their feet and health, and at the same time, create confidence in movement and daily communication with global quality "Made in Vietnam" footwear, the founder of SAADO shared: "It all comes from a methodical intention and strategy, not spontaneity that gave birth to the slogan" Young Generation Wild n Free ". What SAADO wants to convey to the young is that let yourself be comfortable, free, wild. That is, be yourself, be true, love people, friends, and be active in every move and daily activity.
Vietnamese children and young people are not yet liberalized but still controlled too much by their parents', schools' and social expectations. They stay reserved and consider those as standards they have to accomplish, no matter if it's right or not, whether they like it or not, whether they love them or not and how they love them. They sometimes don't really understand what they need, they have to waste too much time working, studying things they don't like, are not good at or having to follow social standards. "
And the enthusiasm of the person who "Like waking up early"
Handsome, well-dressed, has a soft voice, elegant style, Da Lat young man with that romantic look Phung Le Lam Hai is actually a very serious, vigorous, practical man.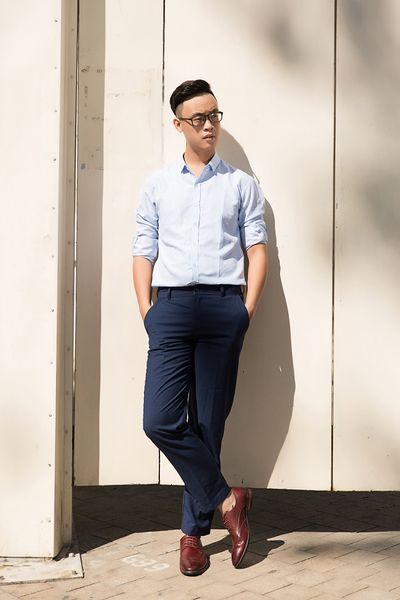 Besides having a successful business, Phung Le Lam Hai is also evaluated as a person with aesthetic and fashion sense
The desire for Vietnamese footwear brand to go global has been a nurtured for a long time. He shared: "If you only do business domestically, you won't know how big the world is. After traveling abroad, I found out it was not necessary for to compete with my local neighbor anymore. Not only the footwear industry, but also every industry, such as the five major banana growers, for example, who compete with each other at low prices to sell to foreign countries, and then they re-export to Vietnam at exorbitant prices.
Vietnam has too many good products but it does not know its power. If they go to Africa, China, India, they will find Vietnamese products much better. Vietnam is doing raw assembling, what happens when the retail system does not use people anymore? With FDI technology investment, when the bosses cut cost and increase profits using robots, Vietnamese people will be unemployed en mass.
Why go outsourcing for brands that sell ten times the price? I have been to major footwear factories in Vietnam, saw the workers who were so poor, eating insufficient meals, 70-80% are workers in the shoe industry are women. They are the main labor force for the economic development of the country, but they are really struggling, with a monthly salary of less than 5 to 6 million.

What happens when the strength of footwear and apparel is lost to robots? There are factories that previously needed 10,000 workers, now only needs 500 to 1,000 people. If we do not act now, what will happen in 5 to 10 years?
When meeting with businessmen from other countries, they really appreciate Vietnam's business environment, political stability, safety and development, great potential for economic development. Their people come here to buy houses and real estate a lot, so why doesn't take advantage of its strengths to develop its brand and distribution system, which create the highest value in the product value chain?
If young people do not broaden their horizons, they will become more selfish. Travel more, learn more, understand people, you will see the market differently, you will find yourself stronger. Travel across dozens of countries, I encourage my friends to aim at a 4 billion-people market, only by then Vietnam will be strong.
Young Vietnamese, knowledgeable in technology, must invest in culture first, learn how to connect generations of older siblings with resources and experience to go in the right direction from the beginning. Choosing my birth place to start a business with a love for the country, based on our strengths to grow, I believe that when people with the same interests look outward, there is no longer hatred for each other.

Stepping outside, I realized everything is not as difficult as I thought, life so interesting and I feel always confident. Earning foreign currencies based on SAADO's practical action, inspiring young people to start a business, change their mindset, have more friends in the same ecosystem. Observing the market, I am very happy to see many other businessmen are also flying to Myanmar and Malaysia to do business. In the past, they only bought and resold, did short-term business, now they changed more positively, established more long-term business relationship.
Korea was very poor in the past, but it created a wave of businessmen doing business abroad along with the wave of exporting culture and movies, bringing Korea to a spectacular rise. Therefore, I am very aware of the sharing of work, experiences and feelings I am doing with the community. With the power of words, I hope what I write, the results I achieve, the effects from the SAADO community will inspire young people who aspire to start a business for national construction and support each other to go do business abroad.
I wonder if no one acts, who will be a pioneer? If asked if I am scared, I am, but no problem. There is a fun in paving the first path! At least 500 salesmen for SAADO are believing in what the SAADO team is doing. That is the most important resource.
How can one bring a Vietnamese brand, a Vietnamese impresssion, a Vietnamese mind, Vietnamese marketing, Vietnamese logistics and distribution system to the world? That is our question and concern and also the inspiration for Vietnamese businesses to dare to think big and do big. "
**President - General Director of Saado Vietnam